MARCH 15, 2019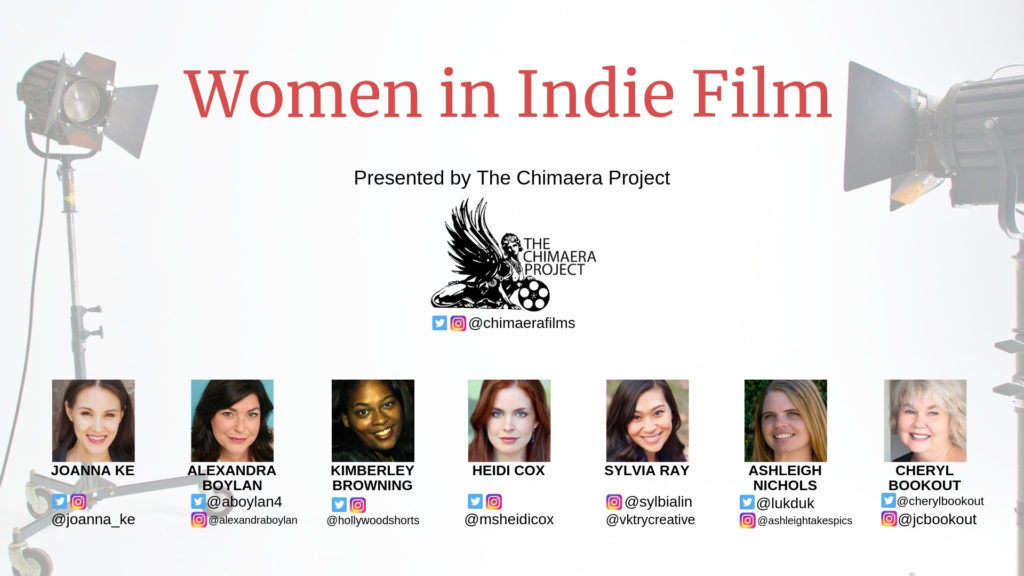 Chances are you have probably seen the social media posts about the Women in Indie Film panel discussion moderated by Joanna Ke and presented by The Chimaera Project at the First Glance Film Festival in North Hollywood on March 15th!

This will be a fun conversation and it is such an honor for The Chimaera Project to be included in this important Film Festival Event. Hope to see you there – here's the scoop with a link to purchase your ticket.
Can't make it on March 15th? No problem, catch it on Joanna's weekly FB live, Tea with Ke! Mark your calendars! https://www.facebook.com/joannake.storyteller/

Panel Moderator, JOANNA KE is an award-winning filmmaker that thrives in the industry as an actor, writer, professional script reader, and producer. Being half Asian, she champions diverse stories led by women, both behind and in front of the camera. As an actor, she's had the honor of working with director Cameron Crowe, and she studied the craft of screenwriting with the late, great Syd Field. As a professional script reader, Joanna is known for her ability to masterfully analyze screenplays and has read hundreds of scripts for production companies, producers, literary management, sales agents, and screenwriters. She runs the twitter account @femcharacters, highlighting the unfortunate way women are often portrayed on screen. She's a member of The Chimaera Project, a non-profit dedicated to empowering women in filmmaking. Joanna wrote, produced, and stars in fantasy action "Protectress," currently on a festival run with 10 awards, including Best Fantasy, Best Action, Best Performance, and Inspiring Woman in a Film for Joanna. She's also a trained sword fighter. Wielding her broadsword is a favorite – both on and off camera.