Newport Beach Film Festival Event
Sunday, April 28, 2019
Heroes On and Behind the Screen presented by The Chimaera Project @ 2:30 p.m. FREE
Join us for a moderated discussion about the steps our panel guests take to create a hero as well as how they make a difference in their position such as challenging stereotypes, diverse storytelling and steering the industry towards a more inclusive environment.
Darlene Conte

Carlease Burke

Tasha Huo

Deven MacNair
Moderated by Darlene Conte known for her work on Grey's Anatomy, Spider-Man 2 and Twice as Dead with panel guests Carlease Burke actor known for Get Shorty, In Her Shoes, The Terminal and Crowded (TV series); Tasha Huo is a writer known for Black Belle and Women in the Dirt: Landscape Architects Shaping Our World; Deven MacNair actor and stuntwoman known for her work on Dawn of the Planet of the Apes, Green Lantern and Now You See Me.
The panel will take place at the Newport Beach Civic Center in the Community Room. This is located at 100 Civic Center Drive Newport Beach, CA 92660. There will be free on-site parking. The panel is scheduled for Sunday, April 28th at 2:30pm, but we recommend you arrive 20 minutes early to account for traffic and parking.
---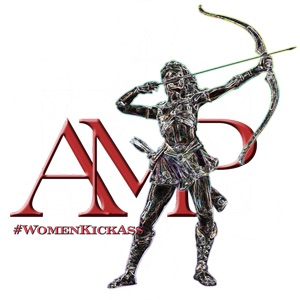 ARTEMIS FILM FESTIVAL EVENTS
Saturday, April 27, 2019: 2019 Filmmaker Celebration presented by The Chimaera Project – 6:30 – 7:30 in the upstairs mezzanine – FREE
Please join The Chimaera Project and add your voice to the conversation celebrating equity and an inclusive mindset as we go forward together on our many endeavors, both personal and collaborative. Film Festival Awards will be presented during this fun reception event! The Chimaera Project hosts: Cheryl Bookout, filmmaker and The Chimaera Project's Executive Director; Foster V. Corder, filmmaker, actor, producer; Darlene Conte, producer, writer; Andi Norris, actor, stuntwoman; Dove Meir, filmmaker, actor, producer.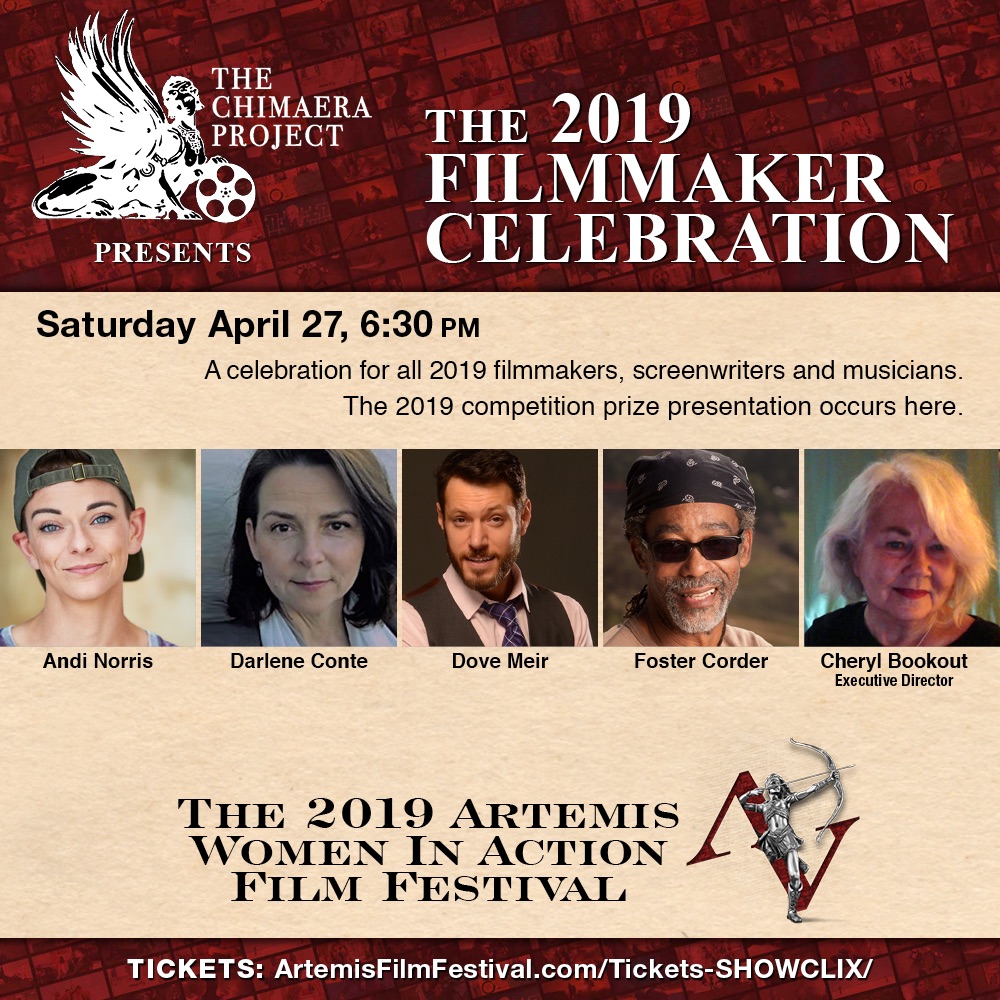 ---
Sunday, April 28, 2019: WORKING TOGETHER TO CREATE ACTION, presented by Chimaera Project @ 4:00 p.m. – FREE
Artemis Film Festival Location: Monica Film Center at 1332 2nd St, Santa Monica, CA 90401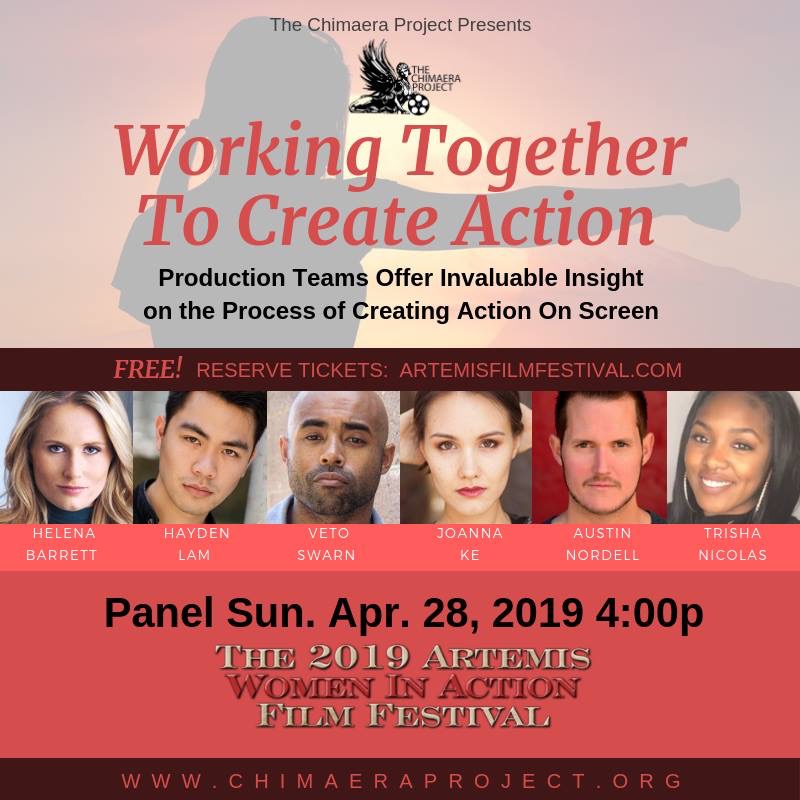 What does it take to prepare for, shoot and make a spectacular action sequence? Moderated by Trisha Nicolas (Sr. Producer, Snap, Inc.), this panel will examine actual stunt scenes with the pros who designed the action and how the scenes were accomplished effectively and safely. Hear first hand advice from the filmmaking teams responsible for creating three different types of action sequences. Production team members, directors, actors and stunt coordinators offer invaluable insight on the process of creating action on screen. Sharing approaches stunt coordinators use to create action scenes, work flows between departments, and working with actors without stunt experience, and more.
Panelists: Joanna Ke Actor, Writer and Producer; Helena Barrett, Stuntwoman, Stunt Coordinator; Hayden Lam Director, Stunt Performer and Stunt Coordinator; Veto Swarm Actor and Stuntman; Austin Nordell Cinematographer and Editor.
---
MORE!!! APRIL 2019 ARTEMIS AND NEWPORT BEACH FILM FESTIVAL EVENTS PRESENTED BY THE CHIMAERA PROJECT TEAM MEMBERS!
Artemis Women in Action Film Festival Opening Night
Friday, April 26, 2019

Seeing is Believing: Women Direct directed by Cady McClain, The Chimaera Project Ambassador and produced by The Chimaera Project's board member Amanda Quinn Olivar, will be screening at 9:30 p.m. This powerful documentary includes interviews with The Chimaera Project's Co-Founders Shana Betz and America Young.
---
Saturday, April 27, 2019: Seeing is Believing: Women Direct @ 2:20 p.m.
"Powerhouses of Female Fortitude" panel presented by Curator.site immediately following the screening of Seeing is Believing: Women Direct will discuss how women persevere in the industry while also championing other women. Confirmed panel guests include Maikiko James of WIF, Liz Manashil of Sundance Creative Distribution, Heather Allin, former president of ACTRA, and Tige Charity, head of Kids in the Spotlight.
---
Newport Beach Film Festival
Tuesday, April 30, 2019
From the cafés of Paris to the mountaintops of Samiland, a scholar's life is forever changed through her friendships with the women artists of Surrealism.
Gloria's Call
directed by Cheri Gaulke
Gloria's Call directed by Cheri Gaulke, The Chimaera Project member and produced by The Chimaera Project Executive Director Cheryl Bookout and The Chimaera Project members Anne Gauldin, Christine Papalexis and Sue Maberry
5:30 p.m. @ Triangle Square Cinemas
1870 Harbor Blvd, Costa Mesa, CA 92627
Purchase tickets here.