We are proud to partner as a fiscal sponsor for amazing projects!
The Chimaera Project provides a Fiscal Sponsorship Program to a limited number of qualified non-commercial projects with filmmakers identifying as female in key creative roles.
---
2019-2020 Fiscal Partner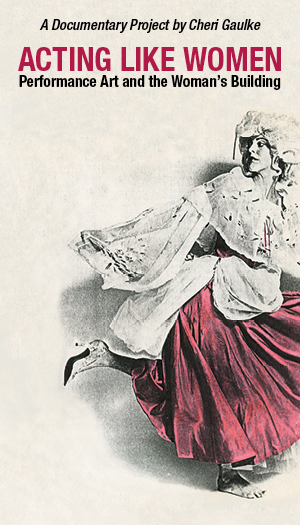 Acting Like Women: Performance Art and the Woman's Building is a documentary project directed by Cheri Gaulke that revisits the California feminist art movement of the 1970s and 1980s. In 1970, women artists flocked to California, heading west from all over the country like pioneers of another era. What they discovered – at Fresno State, then CalArts, then downtown Los Angeles – was a place where women were valued. At the time women's art was rarely exhibited in galleries and museums. Artists from diverse communities organized, creating spaces of their own. The Woman's Building, a transformed warehouse in downtown Los Angeles, declared itself a "public center for women's culture." There women created community, made art from their own experience and in doing so, gave birth to a new kind of art. The Woman's Building was an incubator for new art forms and practices – feminist performance art, ritual, collaboration, social engagement and media interventions. Feminist performance art redefined form and content, brought art out of the rarified gallery and museum scene  into the streets, diverse communities, and directly into people's lives.
---
2017-2018 Fiscal Partner
An Act of Terror Written by Ashley Brim Riddle & Rachel Rush
The true story of Virginia Christian, a 16-year-old African American girl accused of murder in the Jim Crow South.
Please help us spread the word about AN ACT OF TERROR! Check out our crowdfunding teaser trailer and SHARE it with everyone you know. Sign up for our mailing list at the top of our page so you don't miss a thing!!!!!#anactofterror #seedandspark #crowdfunding #supportindiefilm #womeninfilm #100daysofdiversity #sayhername

Posted by An Act of Terror on Friday, April 7, 2017
An Act of Terror –  Updates on the film's progress
Ashley Brim Riddle, Director and Co-writer
Ashley Brim Riddle is a Los Angeles-based filmmaker.  She currently serves as Assistant Producer on the Showtime series HOMELAND. This January she returned to the set of Homeland to shadow Director/Executive Producer Lesli Linka Glatter for the Season 6 finale. Recently, Ashley was chosen for the 2017 Ryan Murphy Television Directing Mentorship Program.
Rachel Rush, Co-writer
Rachel Rush is a freelance writer and filmmaker.  Rachel attended the University of Miami's School of Communication where she produced her first short film, FAMILIA, and earned a Bachelor of Science in Communication with a focus in Motion Pictures.  Rachel lives in Los Angeles where she works as a Writers' Assistant for Ryan Murphy Television.
Follow An Act of Terror @