TO.GET.HER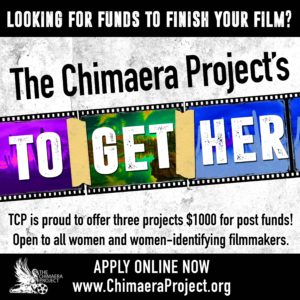 TO.GET.HER submissions closed on January 5th – Please visit again for our award announcements!

TO.GET.HER Will Award Three Projects $1000 Each to L.A. Filmmakers for Post Funds

Together we will work TO.GET.HER. funded, finished, hired!
Timeline
Submission Deadline and *$10 Fee: January 5, 2018
Round 2 Invitations Emailed By: February 14, 2018
Three Awards Announced By: March 15, 2018
Qualified Projects
Filmmakers must be based in Los Angeles County
Directed by filmmakers identifying as female
Department Heads 50/50 Women/Men
Short or Feature Film
Narrative or Documentary
Film Will Be Completed by June 2018
Submission Guidelines
Round 1
Script of narrative project or outline of Documentary
(please send support materials as pdf or word docs)
Itemization of what needs to be completed on the film & creative plan/concept for execution
Proposal/budget for how the money will be used
Examples of how money will be used: Quotes from sound designer or color correction; List of companies or individuals that will be used during post production
List of Cast & Crew
Directors Statement of vision for the overall project
Link to the film in its current state*
If you do not have a link to your film, you may submit in Round 1 without it. However, it will be mandatory if you are invited to Round 2.*
$10 submission fee payable at PayPal.Me/TheChimaeraProject  * The Submission Review Fee offsets the costs of this effort to fund meaningful work by serious filmmakers.
Email submission materials with TO.GET.HER in the subject line by January 5, 2018: tcpfilmsubmissions@gmail.com
Be sure to include your full name and contact information in the body of your email.
Finalists will be notified for Round 2 by February 14, 2018
Round 2- Invitation Only
Selected projects will need to submit a link to your film in its current state for review if it was not included in Round 1.
Director and/or Producers will be notified to schedule an interview with The Chimaera Project team.
Awards Announced by March 15, 2018