TO.GET.HER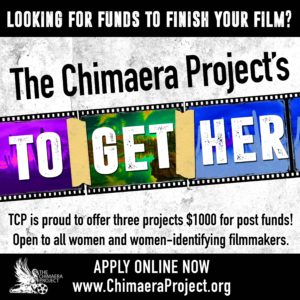 TO.GET.HER Will Award Three Projects $1000 Each to L.A. Filmmakers for Post Funds
Together we will work TO.GET.HER. funded, finished, hired!
CONGRATULATIONS ROUND 2 FILMMAKERS!
Emily Aguilar, Dawn Alden, Hallie Applebaum, Paola Ariza, Portia Bartley, Schantelle Cason, Melissa Center, Lagueria Davis, Aina Dumlao, Emily Esperanza, Karla Gomez, Kate Hackett, Chantelle James, Julia Kouneski, Hayley McCarthy, Kathryn M. Moseley, Tchaiko Omawale, Kayden Phoenix, Austen Rachilis, Cheryl Rodes, Sarah Winshall, Miley Yamamoto
Timeline
Submission Deadline and *$10 Fee: January 5, 2018
Round 2 Invitations Emailed By: February 14, 2018
Three Awards Announced By: March 15, 2018
Qualified Projects
Filmmakers must be based in Los Angeles County
Directed by filmmakers identifying as female
Department Heads 50/50 Women/Men
Short or Feature Film
Narrative or Documentary
Film Will Be Completed by June 2018
Submission Guidelines
Round 1
Script of narrative project or outline of Documentary
(please send support materials as pdf or word docs)
Itemization of what needs to be completed on the film & creative plan/concept for execution
Proposal/budget for how the money will be used
Examples of how money will be used: Quotes from sound designer or color correction; List of companies or individuals that will be used during post production
List of Cast & Crew
Directors Statement of vision for the overall project
Link to the film in its current state*
If you do not have a link to your film, you may submit in Round 1 without it. However, it will be mandatory if you are invited to Round 2.*
$10 submission fee payable at PayPal.Me/TheChimaeraProject  * The Submission Review Fee offsets the costs of this effort to fund meaningful work by serious filmmakers.
Email submission materials with TO.GET.HER in the subject line by January 5, 2018: tcpfilmsubmissions@gmail.com
Be sure to include your full name and contact information in the body of your email.
Finalists will be notified for Round 2 by February 14, 2018
Round 2- Invitation Only
Selected projects will need to submit a link to your film in its current state for review if it was not included in Round 1.
Director and/or Producers will be notified to schedule an interview with The Chimaera Project team.
Awards Announced by March 15, 2018